Therapy Areas
Equine Assisted Learning & Psychotherapy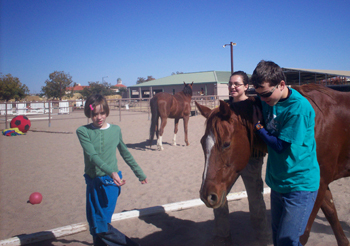 Equine Assisted Learning(EAL) utilizes horses to help participants work through goal-oriented activities. Horse's body language, perception, and sensitivity all help create new conversational opportunities and understanding of the individual's life as well as provide an environment for learning and growth.
Equine Assisted Psychotherapy(EAP) works with clients and horses in a therapeutic setting to help clients overcome mental and emotional challenges. The horse responds to the client similar to the way other people also respond to that client which allows for the client to address those challenges in a real-time, experiential sense. For both EAL and EAP we have a New Mexico Licensed mental health counselor, who is also certified through Equine Assisted Growth and Learning Association(EAGALA) to lead these sessions, and an Equine Specialist or PATH Intl Certified Instructor.
Visit the Equine Assisted Growth & Learning Association - EAGALA- for more details on EAL and EAP.
Hippotherapy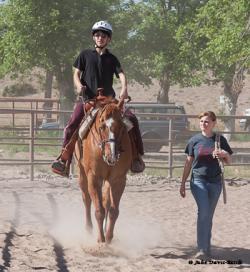 Hippotherapy is a new part of our program and has allowed us to team up with MECA, LLC. MECA, LLC has Physical, Occupational, Speech, Developmental, and Family Therapist that bring that work with their clients and team up with an Equine Specialist to lead a lesson with goals and objectives similar to their other therapy sessions and our Therapeutic Riding lessons. The multi-faceted movement of the horse uniquely provides input to the clients along several planes simultaneously. Combined with therapeutic games and activities, hippotherapy can be very beneficial.
Visit the - American Hippotherapy Association - for more details on Hippotherapy.